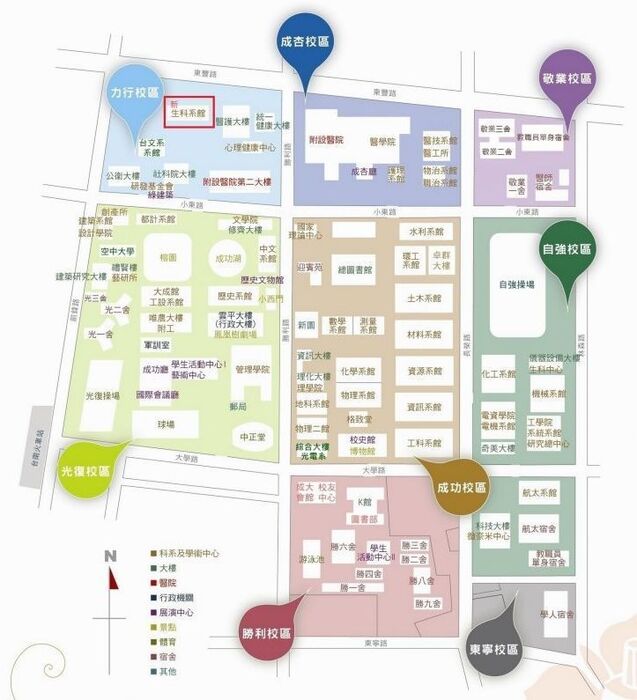 Transportation
From the North

1. Take National Freeway No.1 (Sun Yat-Sen Freeway) southbound.

2. Get off at Exit 319 (Yong-Kang Interchange) and turn right to southbound Chung-Cheng N. Road.

3. Travel down on Chung-Cheng N. Road and Chung-Cheng S. Road, and make a left turn at Chung-Hwa Road.

4. Drive down Chung-Hwa Road and Chung-Hwa E. Road.

5. Turn right at Shiao-Dong Road and travel along it for a few blocks further, about 1.2 km to reach NCKU.

6. Turn left at Chang-Rung Road and our campus (Tzu-Chiang) is on the left.

(If you drive on National Freeway No.3 Southbound, at Exit 346 (Shin-Hua System), take National Freeway No.8 Westbound (Exit 6, Tainan System Interchange) to get on National Freeway No.1 Southbound to Exit 319)

From the South

1. Take National Freeway No.1 (Sun Yat-Sen Freeway) northbound.

2. Get off at Exit 327 (Ren-De System Interchange) and turn left to westbound Chung-Shang Road.

3. Travel on Chung-Shang Road and continue on Dong-Men Road.

4. Make a right turn at either Chang-Rung Road, and travel for about 1.1 km to NCKU.

5. Our campus (Tzu-Chiang) is on the right after passing Ta-Shueh Road.

?nbsp;

(If you take National Freeway No.3 Northbound, at Exit 357 (Guan-Miao Interchange), take No.86 Expressway westbound

(Exit 8, Ren-De System Interchange) to get on National Freeway No.1 northbound to Exit 327)
1. Take TRA Train to Tainan Station, exit through the rear station then you are on Ta-Shueh (University) Road.
2. Travel on Ta-Shueh Road, after passing Chang-Rung Road, our campus (Tzu-Chiang) is on the left.
1.Take THSR to Tainan station, and take the free shuttle bus that passes our Tzu-Chiang campus.
2.Exit at the NCKU Tzu-Chiang campus stop.